Hello and welcome to Avenue Dental Arts! I'm Dr. Tori Saferin, DMD and I'm so honored that you may be considering me to be your new West Hartford Dentist! I have been practicing Dentistry since 2013 and am passionate about providing my patients with exceptional, individualized oral health care. 
I treat dental patients of all ages in the Greater West Hartford area including children, adults, and seniors. My areas of expertise include but are not limited to, General Dentistry, Cosmetic Dentistry, Smile Makeovers, Preventative and Restorative Treatments, and Periodontal Care. 
I believe that one's health and happiness are intrinsically connected. My goal as a Dentist is to help steer my patients towards a place of total wellness, where they are not only in an optimal condition in terms of their dental health, but also confident, happy, and healthy overall.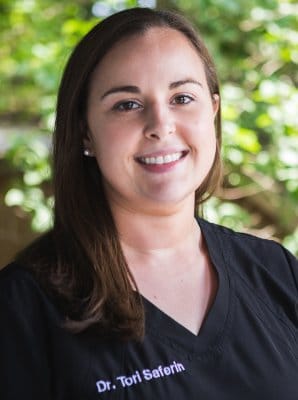 My Philosophy as a Dentist
I live by the philosophy that life is a journey and that everyone's path looks different. We all have our own ideas about what our oral health should look like and what we hope to achieve. 
As a Dentist, my goal is to act as your guide and help you get to where you want to be. The destination is entirely up to you, whether that's having whiter or straighter teeth, improved confidence or comfort, or a healthier smile in general. 
My hope is that by developing an open path of communication, you can become comfortable asking questions and feel empowered to take charge of your dental health. Whenever you have concerns, my team and I will be at your side, ready to help you every step of the way!
What Inspired Me to Become a Dentist
I became a Dentist because I want to help people transform their current dental health status by purposefully moving forward toward health, wellness, vitality, and longevity. It has been my life's dream, ever since I was three years old! 
Today, I can confidently say that being a Dentist has been the most rewarding experience of my life thus far. I am passionate about helping people live a better life and have a more fulfilling future through optimal dental health.
I spent the next several years working in Connecticut and cultivating my skills as a Dentist. I was employed as an Associate Dentist at a private practice in Cromwell and later at another office in Avon.
I always knew I wanted to be a practice owner and in late 2016 I met Dr. Weil who was looking to sell his well-established practice. We instantly bonded over our mutual love of helping others and our practice vision. I became the owner in June of 2017 and had the honor and privilege of Dr. Weil's mentorship during which I gained a tremendous amount of knowledge and insight.
My team and I were thrilled to be named the Best Dentist in 2022 in the Best of West Hartford awards!
Today, I am surrounded by the most excellent, caring support staff and a host of patients that I get to know better and learn from each day. I am thrilled about being able to make an impact in West Hartford, the community where I was born and raised and love. 
I am an avid proponent of lifelong learning and personal growth. I constantly strive to advance my skills and further my knowledge as a Dentist. My professional memberships and affiliations include:
Member of the Connecticut State Dental Association

Member of the American Dental Association

Member of the Academy of General Dentistry

Faculty member at the University of Connecticut School of Dental Medicine (Clinical Instructor for the School of Behavioral Sciences and Community Health)

Participant in the Spear Study Clubs

Enrolled in courses at The Schuster Center
I'm Passionate About Health & Wellness
I believe in living a healthy, balanced life. When I'm not in the office, I enjoy travelling, spending time with family and friends and being physically active whether that is at the gym or out on a walk around town. I'm also an artistic individual and enjoy cooking, hosting parties, and being creative. 
I Would Love to Be Part of Your Wellness Journey
If you're looking for a new Dentist in West Hartford or the surrounding area, I would love to hear from you! I have convenient appointments available and I am always welcoming new patients. It is such a joy for me to meet new patients and talk about your dental health and wellness goals.
Whether you need a simple check-up, a dental filling, or preventative treatments, I welcome you to contact my office. I offer a range of services including Family Dentistry, Teeth Whitening, Ceramic Veneers and Invisalign, Periodontal Dentistry, Implant Restorations, Dentures, Dental Crowns & Bridges, Root Canals, TMJ/TMD Treatment, Tooth Extractions, Sleep Apnea, Sedation Dentistry, Emergency Dentistry, and more.
Begin your journey towards wellness and contact my office today at 860-236-3271.