Forget everything you know about wearing braces! Invisalign is the breakthrough orthodontic technology that lets you get all of the benefits of a straight smile without any of the drawbacks of metal braces.
Invisalign is a Successful Alternative: Invisalign uses a series of clear removable aligners made from SmartTrack material, making them more comfortable and easier to put in and take out. You will switch your aligners about once every one to two weeks as your smile shifts before your eyes. Invisalign can correct all of the common smile imperfections like overbite, underbite, and crowding.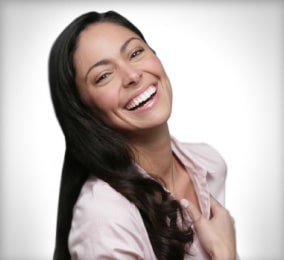 Invisalign is a Hassle-Free Treatment: Who doesn't want an easier orthodontic treatment? The average wear time for Invisalign is about one year. You will see your doctor every month or two to check in. That's less time and fewer visits than for a patient wearing regular metal braces.
Invisalign is Undetectable and Comfortable: Invisalign is transparent, so you won't draw attention to your mouth during treatment. You'll be more comfortable both because you'll feel more confident and because the aligners are smooth and non-irritating.
Invisalign is Removable: You will remove your aligners to eat, drink, brush and floss. Patients love that they hardly have to change their daily routine to achieve a beautiful smile.
Could Invisalign Work for Me?
If you feel your smile could use straightening or reformation, Invisalign might be an option for you. We offer consultations at Avenue Dental Arts to discuss your smile needs.
You could join the 5 million people that have used Invisalign now! You can look and feel your best during the time you're wearing the aligners. You're going to love your results!
To schedule your first appointment, contact Avenue Dental Arts today. We will ask you questions about your smile, perform an exam, and take a few x-rays.
If we determine that Invisalign is right for you, we will design a series of completely custom clear aligners to transform your unique smile. We can begin treatment shortly so you can start showing off your amazing new smile sooner!